Elderberry Syrup
Elderberry syrup has been traditionally used as a wellness booster for centuries. It is most commonly used for colds, coughs, influenza, seasonal allergies* and more. Many elderberry supplements found on store shelves are loaded with added refined sugar, artificial colors, thickeners along with preservatives and/or corn syrup. Shelf stable products are also very expensive and the actual amount of elderberries per serving is lower than that of small batch syrups. Our elderberry syrups are made to order with organic ingredients that have been gifted to us by nature only. Our products do not contain any artificial ingredients, including thickeners, preservatives or artificial colors. The delicious sweetness comes solely from the amazing raw honey that we source locally from Hilbert's Honey Co. We take great pride in preserving the benefits of the raw honey by only adding it to cooled elderberry liquid. We do NOT pressure cook, can, or hot pour our syrups. Because of this, our syrups require refrigeration. We make our syrups and ship them right away. They have plenty of shelf life to make it to their destination, but need to be placed in your refrigerator upon arrival. 
Shop Now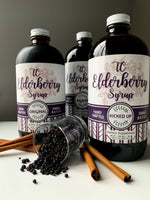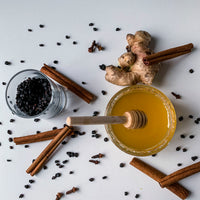 Our Standards
Here at TC Elderberry, we want you to feel like you are getting the best "homemade" elderberry syrup you have ever had. We want to give you the excellent customer service that you deserve while also manufacturing our products with safety in mind. We work hard to be compliant with FDA regulations. We truly hope to excel in all areas of our very small business. It is our mission to spread health, hope and love - one bottle at a time. 
Real Reviews from Real People
WOW! I was sick for 3 straight weeks (allergies which turned into a sinus infection and cough). Started taking elderberry kicked up every 2 hours and my symptoms cleared up in 2 days!!! Also, I was pleasantly surprised how good the syrup tastes! I will be purchasing forever and ever. 

Deanna P.
I cannot say enough good things about this company or the product! I always try to support local, so when I found TC Elderberry I was excited to try it out. We have been taking the Original formula for months (we lived in a hospital for 4 weeks during the cold and flu season with my son and no one got sick)! I have been taking the Allergy elixir and guess who is off of Allegra Finally... this gal! I will never, ever be without this magical fruit in a bottle again! Plus it tastes great and my kids beg for it!

Kristin K.
Kicked Up Syrup Review: I stand by this product! I have been drinking this for over 2 years and believe in its protective nature to starve off colds and flu. The taste is amazing and the customer service is incredible!

Robin A.